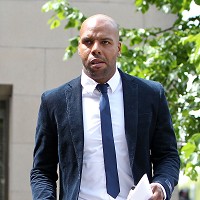 Former Premier League footballer Marlon King has been jailed for dangerous driving.
The ex-Watford, Wigan Athletic and Birmingham City striker caused a three-car pile-up on the A46 in Nottinghamshire in April 2013 while eating ice cream behind the wheel - an incident which left one motorist with a broken arm.
He was handed an 18-month prison sentence at Nottingham Crown Court on Thursday after pleading guilty to a charge of dangerous driving back in March.
Recorder Paul Mann QC labelled King's behaviour as "aggressive" and "arrogant".
The court heard how he committed the offence on his 33rd birthday while driving a white 2011 Porsche Panamera.
King, who has a string of previous convictions stretching back to 1997 including violence against women, dishonesty, drink driving and other motoring offences, initially fled the scene but was flagged down by another motorist who feared Martin Beck - the man who fractured his arm - had been killed by the collision.
In addition to a prison sentence, the 34-year-old was also given a three-year driving ban, something bound to impact upon his car insurance premiums in the future.
Copyright Press Association 2014