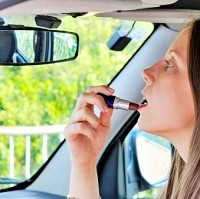 At least two in five women put on make-up while driving, a survey claims.
Because of 'getting out of bed too late', 46% admit applying their mascara and lipstick while behind the wheel - albeit usually when the car is stationary while waiting for lights to change or for congestion to clear, according to the poll.
But just one in seven think that applying cosmetics while driving reduces the ability to move about the roads safely (14%).
Nevertheless, insurers claim that around 450,000 road accidents are caused every year by distracted women applying make-up, which may act as a warning to anyone who would need to carry out such a claim on theircar insurance .
The survey of 1,000 women was commissioned by specialist make-up firm Debra Robson.
It suggests that one in five women who do put on make-up while driving, take only a few minutes to do so.
The most common products used by women in the car are said to be lip gloss (35%), mascara (30%), lipstick (25%), bronzer (6%) and eyeliner (4%).
Debra Robson, who runs the firm, said: "We all know putting make-up on in the car is wrong but nearly half of us do it. It's because most professional women do everything in a rush, particularly in the mornings when they are juggling a multitude of tasks."
Copyright © Press Association 2013