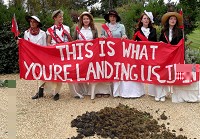 Jeremy Clarkson has once again incurred the wrath of climate campaigners, and this time they have dumped horse manure on his front lawn.
Seven women activists from Climate Rush left the excrement under a banner reading "This is what you're landing us in" at the Top Gear presenter's home in Chipping Norton, Oxfordshire.
They said Clarkson's "blasé attitude to climate change" had provoked their protest, claiming he emitted and estimated 1.7 tonnes of carbon on a recent trip racing to the North Pole by car.
Dressed as suffragettes, the women are travelling around the south west of England in a horse-and-cart for a month to draw attention to environmental issues.
Spokesman Tamsin Omond, 24, said: "I love Jeremy, I love fast cars, I love progress, but I've learnt some things and those things terrify me.
"I learnt that climate change will make my future unrecognisable. I know I'll not have the same choices that Jeremy has now.
"If we keep on loving the fossil-fuelled lifestyle then by the time I hit 49, the world will be too busy coping with the impact of climate change to bother about how big an engine is possible."
Copyright © Press Association 2009