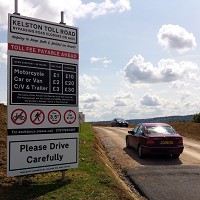 Bath businessman Mike Watts had the perfect answer to a major road closure adding an extra 14 miles to his daily commute - he built one himself.
Now his £300,000 gamble to build a toll road looks to have paid off.
Kelston-based Mr Watts, 62, put his home on the line in August for his private road initiative across farmland, charging drivers £2 for each trip. A total of around 150,000 vehicles used his 365 by 7 metre makeshift road built out of rolled chippings.
Council officials closed Kelston Road (the A431) between Bath and Bristol for nine months for repairs in February after a landslip.
Bath commuters can again re-set their journey planners to the road after it re-opened on Monday at 6am. But it marked the permanent closure of Mr Watts' temporary road.
He invested £150,000 each on building costs and maintenance costs.
But Mr Watts says he won't lose his home. He says he has almost recovered his costs, despite being sent a £3,500 business rates bill by Bath & North East Somerset Council.
Copyright Press Association 2014
%20http:/www.rac.co.uk/route-planner/ (journey planners)