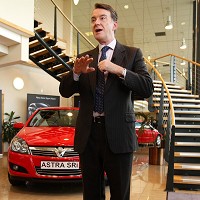 Business secretary Lord Mandelson has told workers at a Vauxhall factory that he will "fight for every job" amid negotiations on the car giant's future.
He was given a tour of the production line at Vauxhall's Ellesmere Port plant, where 2,200 staff have suffered months of uncertainty after Vauxhall's US parent General Motors (GM) filed for bankruptcy protection.
He said a decision could be made "in the coming week" about who will take over GM's European operations.
"I want to end this uncertainty because we owe it to the workforce to tell them what their future is and to make sure it is secure," Lord Mandelson said. "I am impatient for a solution."
He added that the race is between Canadian firm Magna International and Belgian investment group RHJ International.
"There are two main bidders left in the race and both have given a firm commitment to the future of Ellesmere port. It not only has a glorious past but also has a prosperous future," he said.
Lord Mandelson said he needs a commitment to workers before he hands over state aid, seen as vital to ensure the factory survives.
The outcome will also affect 2,800 workers at a van factory in Luton and staff in Europe.
Copyright © Press Association 2009