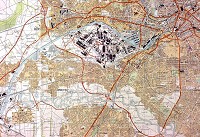 A map on display at an exhibition in Manchester shows the roads targeted by Russia as part of a plan to invade the city in 1974.
The generals in Moscow aimed to conquer the city during the Cold War by heading along Washway Road, the Mancunian Way and Princess Road.
These wide roads were thought to be suitable enough for rolling out the armoured vehicles into the city centre.
An exhibition at the University of Manchester's John Rylands Library is displaying the map, which features a special colour code used by the Soviet map makers to describe targets, such as black, purple and green for industrial sites, public buildings and military sites respectively.
They also added secret information left out of Ordnance Survey maps from 35 years ago, such as the Risley Moss nuclear research site.
Manchester University geography lecturer and curator, Chris Perkins, said: "This and other maps in our exhibition called Mapping Manchester reveal a very different side to this city.
"It shows the roads - familiar to many Mancunians - which the Soviets felt were wide enough to carry tanks, including Washway Road, the Mancunian Way and Princess Road.
"Quite unnerving really as the map - and their intelligence - is only 35 years old. It's incredible how detailed their information was."
Copyright © Press Association 2009