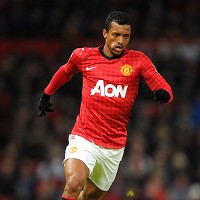 A police officer has been suspended after his car was in a crash involving Manchester United player Nani.
The £25.5 million 26-year-old Portuguese winger, who was unhurt, was driving back from training still in full kit when the incident happened.
The driver of the unmarked Ford Mondeo, which was on its way to an emergency call, was also unhurt. But the passenger in the police vehicle, a special constable, received minor injuries.
Nani's £180,000 Bentley Continental was in collision with the police car on the Kingsway junction of Gatley Road, Gatley, Stockport, Cheshire, at 6.40pm on Friday February 15.
Manchester United did not have a game the following day, since they are playing at home to Reading in the fifth round of the FA Cup on Monday.
The police driver has been suspended until an investigation has been carried out in line with normal procedure, but both vehicles are said to have left the scene with only minor damage. And you don't need a Premiership footballer's salary to afford appropriatecar insurance .
Greater Manchester Police are appealing to anyone who might have seen the incident to ring them on 0161 856 4741.