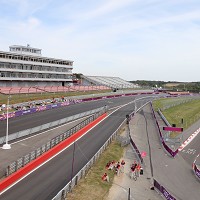 A 21-year-old man boasted that it was "wicked fun" to drive his girlfriend's car onto the famous Brands Hatch circuit in the middle of a race.
Jack Cottle was filmed from the back seat of the Volkswagen Polo belonging to passenger Saskia Fisk, while she appeared to scream at him to get them off the track, during the Fun Cup race on Saturday.
Police have since arrested and bailed the dangerous driver for a suspected false imprisonment having seen the film his friend Zac Copson took while he was sat in the back.
Speaking to The Sun before his arrest Cottle, from Tonbridge in Kent, said they were bored and thought it would be funny to join the race. He said his girlfriend was "up for it" when they joined the track.
Cottle said it was fun but he could have done with being in a quicker car as he didn't think he drove faster than 80mph.
The operator of the Kent circuit, MotorSport Vision (MSV), the Motor Sports Association (MSA) and Kent Police are currently investigating the incident.
A spokesman for Kent Police said they were told what happened on Sunday and arrested a 21-year-old Tonbridge man on suspicion of a false imprisonment. Cottle was released on bail on Tuesday.
The video has prompted angry reactions from people on Twitter, while the MSA revealed its concern over the incident in a statement.
NBC Motorsport commentator and journalist Will Buxton questioned how the car was able to get on to the track.
"The driver may be a complete idiot, but he should never have got even close to the paddock, let alone the pit lane or track," he tweeted.
Copyright Press Association 2014