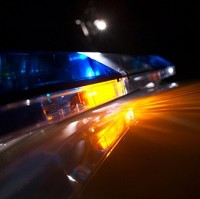 A male driver has been arrested after colliding with a traditional country cottage, which was left in danger of falling down.
Warwickshire Police said the driver, 22, of a red VW Golf has been charged with motoring offences including drink driving. The car went through the home's garden before crashing into the cottage in Welford-on-Avon, Warwickshire, on Saturday evening.
The house was vacant at the time since its residents were away on holiday.
Warwickshire Police attended the incident shortly after 10.30pm following a call from a passerby.
The driver was arrested at the cottage. There were three male passengers in the vehicle, none of whom sustained any significant injuries, a police representative said.
Inspector Mike Smith, from Warwickshire Police, said the car had been left in its crashed position while the condition of the property could be examined.
He said: "There are concerns that the car may be propping up the property. It is feared that removing the vehicle could result in the wall coming down."
He added that the residents' home insurance provider was dealing with the house and the crashed vehicle.
Copyright Press Association 2012