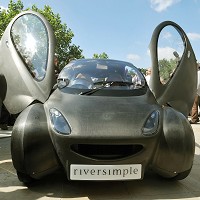 A hydrogen-powered car which can travel 240 miles without refuelling and is capable of speeds up to 50mph has hit the streets of London for a test run.
The new lightweight, two-seater Riversimple Urban Ca comes in at just 772lb (350kg) and could be put into production as soon as 2013.
But before that happens, the project leaders - with support from the great-grandson of Ferdinand Porsche - intend to build 10 prototypes and try them out in cities around the UK.
In order to produce production versions of the vehicle that suit local urban requirements, the car's designs will be available for viewing online.
The cars - expected to have a life span of around 20 years - will be leased to users rather than sold, with owners getting a maintenance, support and fuel package.
It runs using four electric motors attached to each wheel which double as brakes and generate electricity that is stored in a bank of ultracapacitors.
The Riversimple Urban Ca is powered by a fuel cell of just six kilowatts compared with the 100kW in some hydrogen prototypes and has been developed over the last three years in a co-operative research programme involving the River Simple development team, founded by engineer Hugo Spowers, and Oxford University, Cranfield University in Bedfordshire and Horizon Fuel Cell Technologies.
Copyright © Press Association 2009