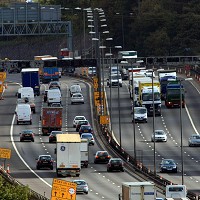 The Transport Secretary has promised a smooth Christmas getaway for motorists across England.
Patrick McLoughlin says the majority of roads should be free from roadworks in time for the festive period.
Highways England is planning to lift around 400 miles of works by 6am on December 23, with 148 projects either paused or completed. If it does, 98% of routes would be free from delay-inducing improvement works.
Millions of people are once again expected get in the car to visit family and friends for Christmas and New Year.
Clearing roadworks over the holiday season is a big win for motorists, claims Mr McLoughlin.
He says it is impossible to improve roads without some element of engineering work, but adds the Government is determined to apply common sense to roads to minimise disruption, particularly at Christmas.
Highways England is set to complete 273 miles of roadworks at 106 locations and will lift restrictions on 39 sets of works across 121 miles of carriageway by 6am on December 23, resuming at midnight on January 2.
There are around 17% fewer active roadworks schemes this Christmas compared with last year.
Copyright Press Association 2015. Motoring News articles do not reflect the RAC's views unless clearly stated.