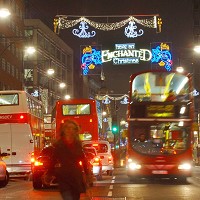 The majority of people will go the extra mile to see family and friends over Christmas, new research shows.
With temperatures plunging and the possibility of snow and ice round the corner, the idea of staying warm and cosy at home during the festive season is very appealing.
But more than 70% of people will brave the cold weather at some point over Christmas to venture out to see loved ones, a study by Friday-Ad Motors says.
Its research says 45 million people will make some sort of journey, with 66 miles being the average distance travelled.
Of those planning to make a trip, around 17% will travel less than 20 miles, some 11% will drive between 20 and 50 miles, and almost 16% will go as far as 50-100 miles.
Almost 8% could go as far as 400 miles, while the family and friends of 1.4% of people should be ready to greet loved ones with a big smile as they are willing to travel more than 400 miles at Christmas.
The prospect of another Christmas in Britain is too much for some, with 6% planning to spend the festive season abroad.
Copyright Press Association 2014