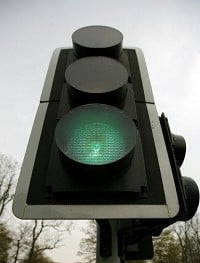 New traffic signals will start operating at Middlesbrough's Newport Roundabout, marking the completion of the first phase of a major road scheme, it has been revealed.
The traffic signals will facilitate improved traffic control and safety for all users at the interchange and come as part of the £15.4 million North Middlesbrough Accessibility Scheme.
Motorists have been urged to take extra care when negotiating the new road layout, which has an increased number of lanes, along with lane designation markings.
The new link road into Riverside Park plans to open before Christmas and will mark the final phase of the roadworks.
The completion of the project means no further maintenance will be required on the A66 for a number of years.
Councillor Charlie Rooney, Middlesbrough Council's executive member for transport, said: "We're very pleased that the scheme is making such good progress and remains well ahead of schedule.
"This is a major civil engineering project and some delays have been inevitable, but every possible effort has been taken to keep them to a minimum. Improved transport links are vital to Middlesbrough's ongoing regeneration and development and I would once again like to thank local residents, businesses and motorists for the patience they have shown throughout."
Copyright © Press Association 2009