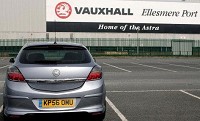 Even though Vauxhall has been sold, Business Secretary Lord Mandelson is positive about the future of the firm's British employees.
Vauxhall staff is concerned that the Ellesmere Port and Luton plants will close after General Motors' European operations was sold to Canadian car parts giant Magna. But Lord Mandelson said he was satisfied with the deal.
"I'm glad the immediate uncertainty about GM's future has been removed," he said.
"We must now hope this GM/Magna/Russian deal will bring stability in the longer term."
He added that he had four face-to-face meetings with Magna in the last two months and was satisfied with their commitment to Vauxhall's plants.
"The Government will now discuss our share of the funding of the deal and I expect to tie down the details of this in the near future," he said.
But union officials fear that more jobs in Germany will be saved as a result of the sale than in other European nations which have GM factories.
Vauxhall employees said the development has left them "devastated", following earlier reports that GM had decided against the deal.
Copyright © Press Association 2009