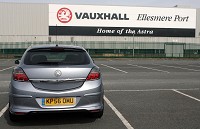 Vauxhall's new owner has agreed to secure the future of the car manufacturer's two UK plants in exchange for cost cuts, including a two-year salary freeze.
Around 5,500 staff at the Ellesmere Port and Luton factories faced uncertainty over their jobs.
But Unite joint leader Tony Woodley said Canadian car parts firm Magna's deal will provide job security until 2013. The move is expected to be a good basis for a long-term future after that.
In a statement, Vauxhall said: "Both the Ellesmere Port and Luton manufacturing operations will retain security of production, increased in the case of Ellesmere Port to 148,000 on two full shifts and at Luton, maintained as a key manufacturing operation until at least 2013 with consideration being given to a future model at the plant beyond that date. There will be no enforced redundancies."
Although voluntary redundancy could see up to 600 jobs axed, unions were originally concerned that at least double the number would go.
Following weeks of talks the agreement, which Unite described as a fairer deal for Britain, was reached.
Fears were raised over the long-term future of the factories after Germany's government offered billions of pounds in guarantees to help secure jobs in their country.
Copyright © Press Association 2009