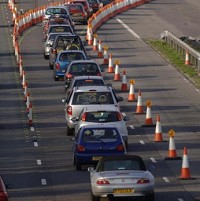 Work on two busy roads is likely to cause disruption in the coming weeks, according to the Highways Agency.
Resurfacing work will be carried out on the M62 and A63 in September - providing a new surface on large parts of the roads between Goole and Hull.
The Highways Agency says disruption should be kept to a minimum, but it has urged drivers to take note of the work if they regularly use the roads and consider planning an alternative route.
Between September 1 and 4, the westbound carriageway of the M62 between junction 38 and North Cave will be the subject of work. The carriageway will be closed from 8pm to 6am between junctions 38 and 37 on these dates to allow for a new surface to be laid, as well as new road markings and road studs.
Following the completion of that work, the Highways Agency will turn its attention to the westbound entry slip road of the M62 at junction 36. The road will be shut to traffic from 8pm on September 5 until 6am on September 8. Once again, a new surface, markings and studs will be installed as well as traffic loop sensors.
Highways Agency project manager Steve Wright said the work is "essential maintenance" and would improve safety on the roads.
He apologised for any inconvenience caused to motorists but said that everything was being done to minimise the disruption.
Copyright Press Association 2014