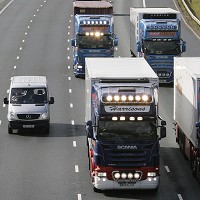 A large section of the M6, one of the country's busiest motorways, will be closed for almost 12 hours after diesel and bitumen was spilt in a tanker accident.
The road, which runs from the Birmingham area to the border with Scotland, was shut at 1.30am after the tanker spilt its load over both the north and south carriageways between junction 18, Holmes Chapel and junction 19, Tabley, both of which are in the area of Northwich.
Motorists are advised to use alternative routes, and police are directing those already on the motorway away from the spillages, while the bitumen dries and the north carriageway is relaid.
A police spokesman said the driver was treated at nearby Leighton Hospital for a bang to the head and cuts to his hands before being discharged.
He said it was too early to say how the crash - which saw the HGV overturn - happened. Long delays were expected, and tailbacks were already building up.
Copyright © Press Association 2009