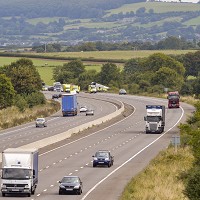 An English motorway regularly used by members of the criminal community has been the subject of a major police operation.
The M5, which connects the midlands to the south west of England, has been identified by police as a key route for people traffickers, drug smugglers and burglars among others.
Officers dealt with more than 290 people during Operation Unity, which saw the entire length of motorway monitored by police over two days last week.
A total of 70 motorists were pulled up for speeding offences during the operation - and an additional 54 received fines for using mobile phones while driving.
Some 35 drivers were stopped for not wearing seatbelts while 11 were held on suspicion of carrying out a number of other offences.
One motorist was pulled over following reports of a van driver with a handgun near Cullompton in Devon. Officers found a ball-bearing gun when the Mercedes vehicle was stopped and searched near Bristol. The man was not arrested.
Superintendent Paul Keasey, head of Central Motorway Police Group - which led the operation, says he hopes the operation sends a clear message to criminals that the police will act on information it receives from the public and will take all necessary action to ensure criminal activity is disrupted.
He added that he hopes it also raises awareness of the 'fatal five' offences of dangerous and careless driving, using a mobile phone behind the wheel, failing to wear a seatbelt and driving under the influence of drugs or alcohol.
RAC chief engineer David Bizley said: "Research carried out for the RAC Report on Motoring 2014 shows that motorists want to see a greater police presence on the roads to deter illegal and dangerous behaviour by the minority of drivers so this is a good example of the police service responding. However, it would be good to see more traffic police on our roads all of the time and not just as part of a high profile two-day operation.
"Our research found that two in five drivers (40%) believe anyone committing common offences such as texting at the wheel of either a moving or stationary vehicle, aggressive driving, tailgating, middle lane hogging or undertaking on the motorway would more than likely get away with it.
"As a result 60% of motorists surveyed by the RAC believe there are insufficient numbers of police officers on the roads to enforce driving laws."
Copyright Press Association 2014