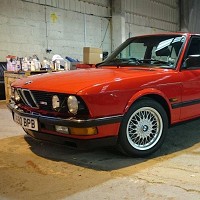 The BMW M5 is widely regarded as the ultimate sports saloon - and the ultimate collection of models from the much-loved range is set to go under the hammer.
No less than seven M5s, including a rare Alpina B10, will be auctioned off at Classic Car Auctions June Sale at Warwickshire Exhibition Centre.
All of the highly sought-after cars are from the same seller, who has pieced together the collection over a number of years. But now they have decided to part company with the small slice of motoring history.
In addition to the Alpina B10, the lot list features a pair of E28s - an ultra-rare M5 and an M535i both registered in 1987 - plus a 1991 example of the E34 M5, which is thought by many to be the best of the breed.
There is also a left-hand-drive E34 M5 Touring, imported from Germany in 1998, as well as the 3.8-litre - and most desirable - E34.
It is a Shangri-La for all classic car enthusiasts, not just BMW fans.
The BMW M5 burst onto the scene over 30 years ago. The E28 made its debut at the 1984 Amsterdam Motor Show, borrowing the 3.5-litre straight six engine from the M1 supercar to offer 282bhp of thrust.
It had a top speed of 153mph, while it could accelerate from 0-60mph is 6.5 seconds. But only 2,191 units were ever built, making it one of the rarest Motorsport models in BMW's history.
The E34 followed in 1989. Featuring a six-cylinder engine that offered 311bhp, it was the last hand-built M car. A left-hand-drive Touring version, released in 1992, was the M division's first ever estate car.
Nine years after the E34 came the E39. Equipped with a V8 unit, it produced 394bhp and was capable of hitting 60mph in 4.8 seconds.
The E60 arrived in 2005, before the F10 in 2011. A 592bhp '30 Jahre' edition was unleashed in 2014 to celebrate the 30th birthday of the M5. But only 30 models made it to the UK - so expect to see them at classic car auctions in the future.
Copyright Press Association 2015