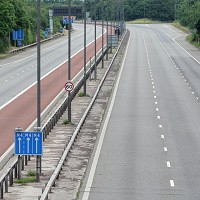 The west London section of the M4 motorway looks set to be shut off beyond the weekend after officials said repair work to a flyover may take another few days.
The work on the Boston Manor Viaduct, slightly west of M4 junction two, was originally scheduled to be finished on Thursday morning.
However, the Highways Agency says the work is now at a "critical stage" and that "due to the complexity of the operation more time than originally envisaged is required to complete the work safely".
The agency said that "within the next few days" the motorway would reopen.
The road has been closed since Friday - originally between junctions one and three, but now just junctions two and three - following the discovery of a crack in a very stressed section above bridge supports.
Anyone planning to drive into west London on the M4 is advised to find an alternative journey on M3 or M40.
The motorway is the major route used by motorists between London, Heathrow Airport and west England. Drivers planning to travel into west London via the M4 are advised to use a journey planner to find alternative routes via the M3 or M40.
Roads Minister Mike Penning said: "This is a very complex operation and it is not possible to predict precisely how long it will take."
A single lane of the motorway will be reserved for Games competitors, officials and sponsors from Monday, when the road officially joins the Olympic Route Network.
Copyright Press Association 2012