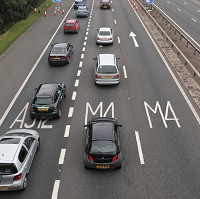 The main route from London to Heathrow Airport has reopened in both directions, the Highways Agency has confirmed.
The M4 motorway, which will be one of the busiest roads in the country during the Olympics, was shut between junctions 2 and 3 a week ago after engineers, who were carrying out other repairs on the busy section, found a hairline crack on the Boston Manor Viaduct.
TheHighways Agency said engineers had successfully carried out "complex" emergency repairs and the motorway was reopened early on Friday morning, exactly two weeks before the Olympic Games opening ceremony.
A spokesman for the Highways Agency said: "An exceptionally delicate and difficult operation to repair cracks in the Boston Manor Viaduct on the M4 has been successful and the motorway has now reopened between junctions 2 and 3 to all cars."
The motorway connects the capital and the Olympic Park in Stratford with Heathrow Airport and western England.
Copyright Press Association 2012