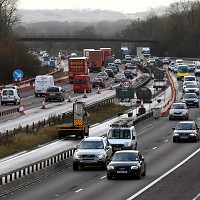 Roadworks will remain in place on parts of the M25 over the busy Bank Holiday period.
Motorists using the M4 will also need to be prepared for roadworks, although there is good news that works on various other motorways and major A-roads have been lifted for the holiday period.
Rail travellers will not necessarily face a trouble-free getaway either, as there will be engineering works taking place on some routes, such as the West Coast main line, while big development work will be getting underway at London Bridge station.
Meanwhile a weather expert has said there is no prospect of "a scorcher", although temperatures will be edging up a little to make for pleasant conditions in some areas.
Paul Mott, a senior forecaster with MeteoGroup, the weather division of the Press Association, said temperatures are only likely to reach a relatively chilly 13C (55F) in England and Wales on Friday although they could get up to 16C (61F) in Scotland.
He revealed temperatures should be a few degrees higher on Saturday, which will be mostly dry, though rain and cooler temperatures could sweep in from the west on Bank Holiday Monday.
Temperatures should remain up around the 17C mark in southern England, however.
Copyright © Press Association 2013