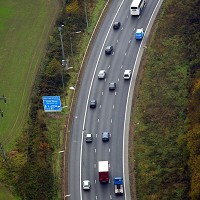 Britain's busiest motorway is now bigger than ever before as two separate widening projects were both finished after three years of work.
The M25 has had a fourth lane added to the stretch of road between junction 16 near Uxbridge in west London to junction 23 at South Mimms in Hertfordshire, and the section in Essex between junction 27 at Epping and junction 30 at Thurrock.
Over 11 million hours have been put into the widening schemes and Roads Minister Mike Penning says it was absolutely essential to help ease congestion, especially during accidents where breakdown cover is called for, and make it easier for people to commute.
"Our motorways are the backbone of Britain, getting people to and from work, powering the economy and keeping families connected," he said.
"Increasing capacity on the M25 will tackle congestion, help keep traffic moving and improve journey time reliability."
Roughly 130,000 trees and shrubs have been planted as part of the projects and more than 2,800 animals moved to new habitats. A total 125 gantries, including the biggest single span gantry in Europe, have also been built and Mr Penning is delighted the work has been completed ahead of the London 2012 Olympics.
"The delivery of these major improvement schemes is part of the Government's £3 billion investment in the strategic road network. Significantly, these improvements have been completed ahead of the London 2012 Games," he added.
Copyright © Press Association 2012