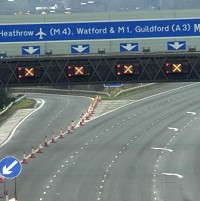 Traffic on the M25 is back to normal after a huge pothole appeared on Friday, causing the closure of three lanes.
Motorists can once more set their journey planners via the anti-clockwise stretch between junctions 10 at Cobham and 9, for Leatherhead.
The hole that appeared was, at 16ft long, a whole lane's width as well as 11.8in deep. The fault is being blamed on torrential rain in Surrey causing overnight concrete repairs to fail to set properly. Traffic chaos ensued, with severe delays and tailbacks.
RAC spokesman Simon Williams said: "This must be a huge concern for motorists and the Highways Agency as you would hope that a major road like the M25 would have been constructed in such a way as to guard against serious defects like this. Motorists must surely now be wondering whether more of these large-scale potholes are suddenly going to appear if we experience more heavy rain this winter.
"If the M25, which is one of the most important roads on the strategic road network, needs more unexpected major repairs carried out to it there will inevitably be traffic chaos."
Some of the thousands of drivers affected missed their plane at the adjacent Gatwick Airport.
Plans to get the road useable again were hampered by pothole-filling material not hardening as well as anticipated, pushing the re-opening time back by hours. Motorists were finally allowed back onto the lanes at around 4am on Saturday.
The Government is expecting Highways Agency officials to give it a full report on what caused the problem.
Copyright Press Association 2014