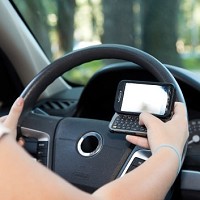 Two dangerous incidents on the UK's busiest motorway this week have highlighted the need for drivers and passengers to remain responsible on the road at all times.
The first involved a driver allegedly watching Lord Of The Rings on a portable DVD machine as he drove at around 60mph on the M25.
The second saw people playing football on the same motorway, during a jam caused by a serious motorbike accident.
RAC spokesperson Simon Williams says: "Motorists and their passengers need to be aware of the consequences of their actions whenever they are in a vehicle on the road.
"Staying in your vehicle when traffic comes to a standstill is often the safest thing to do, especially during a major incident where roads have been closed."
Police and lawmakers alike are striving to keep levels of dangerous driving down.
This usually pertains to speeding, mobile phone use or seatbelt misuse. In fact, only 18 months ago Police Scotland targeted risky drivers and found the number of offenders committing one of these crimes totalled over 88,000 in six months alone.
But the latest two M25 alleged incidents have taken risky motoring to a different level.
Thursday's first incident saw Surrey police stop and report a 30-something Guildford van driver. He allegedly viewed a Lord Of The Rings DVD as he drove on the Cobham stretch of the M25.
The Ford Transit driver's action were described by police as "not good". Police said that the driver was travelling at about 60mph at 7.45am.
Later that day an impromptu football game followed a female motorbiker being badly injured on an M25 stretch (junctions 4 to 5) off Otford, Kent, which needed to be shut.
A Kent police spokesperson reminded car users to remain in their motors if they find themselves stuck in traffic jams.
In the same incident two teenagers reportedly found themselves left unable to return to the side they were originally on. They had wandered over to the other side, which had then reopened.
Police officers then safely helped them to their motor.
Simon Williams commented: "It's hard to believe that anyone would even consider operating a portable DVD player when driving but this highlights some individuals are willing to risk not only their own life, but the lives of others.
"No matter how good a driver you think you are, anything that diverts your attention away from driving your vehicle therefore poses a danger.
"The most recent RAC Report on Motoring highlights how concerned law abiding motorists are about this kind of behaviour and 60% of motorists believe there are insufficient numbers of police officers on the roads to enforce driving laws, so it is clear that more can be done to crackdown on irresponsible driving."
Copyright Press Association 2015
%20http:/www.rac.co.uk/pdfs/report-on-motoring/rac-rom-2014-v16-compressed (RAC Report on Motoring)