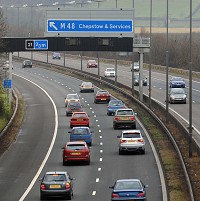 Motorway service stations are pricing families out of food and drink, according to an MP.
Labour's Ann Clwyd claims better regulation is needed to ensure those using motorways are not paying astronomical amounts for refreshments.
High fuel prices are also an issue at service stations, with drivers having no option but to fill up their tanks in order to avoid abreakdown further along the carriageway.
"I wonder if we could have a statement about the regulation of motorway service stations because all of us who have used the motorways regularly know if you get refreshments on the motorway now it's an enormous rip-off," Ms Clwyd told the Commons.
She said the enormous cost of food and drink at motorway service stations was "most unfair" on families because they simply cannot afford to eat.
In response, Leader of the Commons Andrew Lansley said he would forward the concerns to the Department for Transport and declared it was important for the Office of Fair Trading to look at monopoly supply in the private sector.
Copyright Press Association 2013