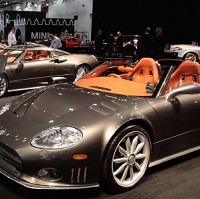 Classic car enthusiasts may be celebrating - but second-hand car dealers won't be quite so happy - with the news that luxury used cars are getting cheaper.
Falling demand for used cars such as Bentley, Aston Martin and Jaguar has led to a drop in average prices by as much as 10% over the past month, according to findings released by search engine adzuna.co.uk.
Across Britain as a whole used car prices in general have declined by 1.5% to an average of £8,942 in the last three months, the company reported.
It said buyers of used cars are tending to prioritise fuel efficiency over luxury in these hard-pressed economic times.
And motorists in the market for a used car might just consider travelling further afield to get their hands on a bargain, with the firm noting significant regional variations in used car prices.
The average popular used car costs £300 less in Wales and south west England than in other parts of the country, according to the company, while Reading and Cambridge are at the other end of the scale as the most expensive cities in which to buy used cars.
Adzuna co-founder Andrew Hunter said the data clearly shows that car buyers in present-day Britain prise "cost, reliability and practicality" above all else.
Copyright Press Association 2012