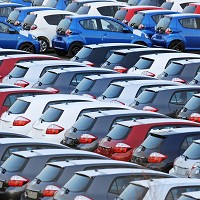 The number 13 has not lived up to its unlucky reputation, with the motor industry enjoying a successful few months on the back of the launch of the new registration plate in March.
The Society of Motor Manufacturers and Traders (SMMT) has revealed the 13 plate has outperformed the previous nine new plates with one month to spare.
The number of cars with 13 plates sold from March to July was 1,115,459. August is the last in the six-month period for the plate and is yet to be totted up.
The '63' plate will be available from Monday, with the SMMT predicting 390,000 new vehicles will be sold in September. This would mean roughly £6 billion being spent by drivers.
SMMT interim chief executive Mike Baunton said the new car market has performed strongly all year, highlighted by the fact the number of cars registered went up for the 17th straight month in July.
"Now we have evidence of consistent growth, we have raised our forecast for 2013 new car registrations to 2,216,000 units, an increase of over 8% on last year," he said.
"In line with this positive trend, we expect the new 63 plate to be very successful and for September registrations to provide a similar peak to that seen in March."
Copyright Press Association 2013