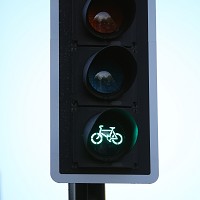 The UK Government has approved the use of lower-level signals on traffic lights to try to make some city roads safer for cyclists.
In recent trials in London, at least four in every five bicycle users preferred the lower light which copies the signal emitted by the main traffic light and displays it at cyclists' eye level.
Transport for London says it is now going to install the system permanently at Bow roundabout in the east of the city.
Another 11 sites in London are scheduled to have the low-level cyclists' lights installed.
TfL says it is also looking at developing a network of back streets for cyclists which are intended to have far less motor traffic.
The Department for Transport is said to be working with the city authority to introduce better-designed road junctions, such as roundabouts, to improve safety for cyclists.
The two bodies have also been trying to develop new standards for roads design, including the introduction of a two-stage right turn element for cyclists which is common in many other European countries.
Copyright © Press Association 2013