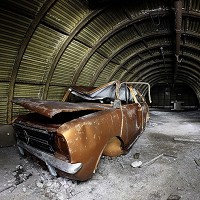 A Mini Clubman discovered in a tunnel under the Longbridge factory is being put up for auction at the Silverstone Classic Sale.
The car, which lay lost and forgotten beneath the famous site for 30 years, was found by a former worker at the plant in 2012.
Employees dumped the motor in the late 1970s after a storage container fell on it, condemning it to a life of solitude.
However, searches for the 'lost' Mini proved fruitful and it was removed last November shortly before the tunnels were due to be filled in - making it the last ever Mini to leave Longbridge.
"Without doubt, this has got to be one of the most fascinating cars we've ever secured for auction," said Nick Whale, managing director at Silverstone Auctions.
"It goes without saying that we expect it will attract a lot of attention."
The Mini, which has just 11 miles on the clock, is being offered without reserve at the sale on July 27 at Silverstone circuit.
Whoever buys the vehicle will be getting a little piece of history well worth the car insurance costs.
Copyright Press Association 2013