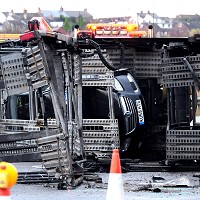 Motorists in West Yorkshire had a narrow escape after a double-decker transporter lorry carrying several vehicles overturned and spilled its cargo across the carriageway.
The loaded-up wagon was travelling on the M1 northbound, close to junction 39, south of Wakefield, when the incident occurred at around 10.25am on Tuesday 20 November.
West Yorkshire Police said no other vehicles aside from the lorry and its load were involved, while a spokesman confirmed there were no injuries.
The stricken vehicle, which was carrying nine cars, sent one car plummeting over the side of the motorway onto a local road underneath, while another ended up on the southbound carriageway.
Drivers experienced long delays as queues built up on the M1 northbound, south of junction 39, although the southbound carriageway was reopened shortly after the incident.
Chief Inspector Paul Hepworth thanked motorists for their patience while the authorities cleared up the debris.
Copyright Press Association 2012