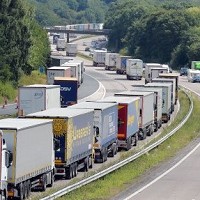 Lorry firm representatives are urging ministers to end Operation Stack, claiming it is putting lives at risk.
The measure, aimed at stopping complete gridlock on Kent's main port-bound roads, sees lorries parked up as they wait to go across the Channel.
The Road Haulage Association (RHA) has launched a petition-led campaign aimed at ending what it calls misery for the trade, local communities and lorry drivers heading to Kent.
RAC spokesman Simon Williams said: "Thousands of motorists are heading to the continent via Folkestone and Dover to begin their well-earned holidays only to be faced with the chaotic combination of congested roads and long waits for their Channel crossings. And, all this before they no doubt embark on long drives further south to their holiday destinations.
"Operation Stack, which was first implemented in 1996, was never designed to be permanent, so the residents, businesses and tourists affected are desperate for some new thinking to ease the pain of lorry queues on the M20 and additional traffic threading through towns and villages which have sadly become the norm.
"Our advice to motorists heading for the Channel is to as leave early as possible, and plan several alternative routes on your approach to the coast - so if your first is blocked you have a back-up that can, hopefully, keep you on the move. Be prepared and resign yourself for a lengthy wait, and keep a close eye on service updates from Eurotunnel and the ferry operators."
The RHA says that the county's roads are becoming jammed by cars and lorries which have been diverted away from the Dover-bound M20. The operation has seen over 5,000 HGVs parked up for average waits of 18 hours.
Richard Burnett, chief executive of the Association, is calling on all Britons to add their signature of the 25,000 names already on its petition. He says that the Government's tactics are placing lives in danger because health professionals cannot get through to tend to their patients.
Also, Operation Stack has sparked stock shortages and deadline-missing deliveries, leaving several shopkeepers to face the prospect of unsustainable losses, Mr Burnett added.
He said companies are suffering, called the knock-on effect to Kent residents "untenable" and the burden borne by freight companies "massive".
Mr Burnett added that the Calais migrant crisis is having "intolerable" consequences for the haulage trade and the UK as a whole.
It is "unacceptable" that truckers who have to pass through Calais face the possible prospect of intimidation and violence from migrants, he went on.
Operation Stack came back last week due to continuing delays in the French port and a massive amount of lorries heading for Dover and Eurotunnel.
Copyright Press Association 2015