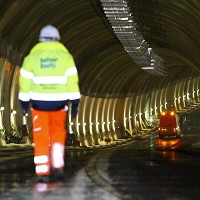 Lorry drivers have been urged to consider the safety of highway workers as video footage of near misses is released.
John Hayes, the Government minister for roads, said staff work at all hours of the day and night to improve the carriageways and sort out the aftermath of incidents. He said their safety is "absolutely paramount".
But their lives are being put at risk by lorry drivers who want to cut "a few seconds" off journey times, he said, adding that the impact on the families of road workers who are injured or killed is "tragic".
The Highways Agency has released the film as data reveals that 10 highways workers were badly injured responding to incidents in 2013, the highest number since 2007.
It features a lorry narrowly avoiding people with a broken down car and traffic staff helping them near Birmingham. It just misses the officers' car in the M6 incident.
In another incident, a lorry smashes into cones where a lane has been closed on the M42, also near the Midlands city, after ignoring a red sign showing the lane was shut. Luckily, it does not hit any road workers.
Copyright Press Association 2014