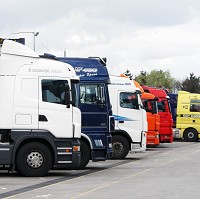 Walking and cycling charity Sustrans is calling on lorry drivers to swap their cabs for bikes.
It's part of a new road safety initiative in Belfast to help reduce the number of collisions across the city.
Karen Mawhinney from the charity, says the scheme will protect vulnerable road users and save lives.
A total of 30 pedestrians and cyclists have been killed on roads in Northern Ireland over the past three years, while last month a cyclist suffered serious injuries after becoming trapped under a bus in West Belfast.
Back in April, a 25-year-old cyclist was hit by a car in the south of the city.
Ms Mawhinney says the number of accidents - particularly collisions with lorries - has increased as more cyclists take to the road.
It is hoped dozens of lorry drivers will come forward and have a go in the saddle, putting them in the shoes of cyclists so they get a first-hand experience of what it's like to navigate Belfast's roads on two wheels.
The new safety scheme follows a successful pilot in June, which involved 10 drivers from Belfast City Council.
Seamus Leheny, of the Freight Transport Association , says its members are working hard to reduce fatalities involving lorries on the road. This includes being open to new road safety initiatives that are introduced.
Copyright Press Association 2015