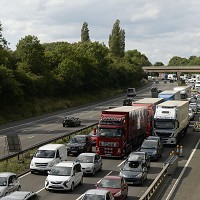 Thousands of motorists endured lengthy tailbacks over the weekend when a major motorway closed following a dramatic lorry blaze.
The HGV caught fire around 1.30am on Saturday near junction 13 of the M6, prompting the closure of the southbound carriage to junction 12.
Footage of the incident shows explosions amid the wreckage and flames spilling across the carriageway.
Fire crews managed to bring the blaze under control by 3am. But the ferocity of the fire melted the tarmac, which led to extensive resurfacing work being carried out.
Queues of up to five-and-a-half miles stretched back from the scene at one stage - on what was already a hectic weekend on the roads.
Emergency services had to hand out water after reports of stranded motorists leaving their vehicles and walking to Stafford services for supplies, while approaching vehicles were urged to alter their route and take the M1 instead.
Highways England said a total of 640 square metres of badly damaged road was repaired by road crews.
All three lanes of the motorway eventually reopened shortly after 5.20pm, nearly 16 hours after the initial fire broke out.
Families embarking on their summer holidays were among the motorists stuck on the stretch of motorway. Some of those caught up in the jams reported being stuck for up to seven hours.
Delays even continued after the road reopened.
Copyright Press Association 2015