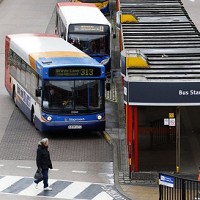 As many as 142 lorry and bus drivers are still operating on Scottish roads - despite admitting they could 'black out' behind the wheel, The Daily Record is claiming.
The newspaper's revelation comes less than a year after a trucker's bin lorry killed six people in Glasgow after he lost consciousness.
The Record says the DVLA has sanctioned HGV licences to scores of drivers whose medical problems are known to cause blackouts.
They are among over 9,000 - out of nearly 15,000 successful bus and HGV licence applicants - who have declared health issues in the past financial year.
Harry Clarke's bin lorry veered off the busy Queen Street Christmas shopping thoroughfare last December 22 and tragically killed six people after he blacked out.
This year's subsequent accident inquiry saw Mr Clarke refuse to answer the hearing's questions concerning an earlier blackout he suffered five years earlier. Neither would the 58-year-old bin van driver speak about his medical past.
Crown Office officials dismissed the possibility of criminal prosecutions in relation to the deaths. But Mr Clarke now faces the likelihood of a private prosecution spearheaded by the relatives of Jacqueline Morton, who was among the victims.
The Daily Record's reporters have found that roughly one in 20 HGV applicants - 769 - were denied a licence for health reasons. These include epilepsy, sight issues, heart disease and strokes.
They also show that 9,281 out of the 15,163 applications handled over 2014/15 suffer health problems.
The DVLA says that licensing rules have played their part in helping to make UK's roads some of the world's safest. An agency spokeswoman says that every driver is legally obliged to ensure that they are in good health before they get behind the wheel.
They should tell the DVLA if their medical circumstances worsen which could affect this, she added.
The spokeswoman stresses that not all drivers who inform the DVLA about health issues will automatically find their licence taken away. This is because the DVLA makes its decision based on the medical evidence presented to it.
Copyright Press Association 2015