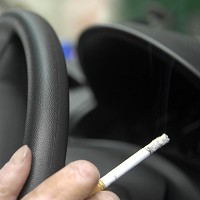 A proposal to ban smoking in private cars has been agreed by peers and sent to MPs for consideration.
Lord Ribeiro saw his Smoke-free Private Vehicles Bill nodded through the Lords but the plan will inch closer to the statute books only if it is adopted by an MP in the Commons.
The bill would outlaw smoking in cars which are carrying children, with a penalty of a smoke-free awareness course at a first offence, or a £60 fine.
Speaking when the bill was debated last month, Lord Ribeiro, a former president of the Royal College of Surgeons, said his attempt to change the law would improve public health.
The Tory peer told the House of Lords: "We can see a room that's full of smoke. We are used to seeing it in pubs, or certainly were when pubs had smoking.
"We would recognise the dangers that would have for our children.
"But somehow driving a car with the window open is OK. Why? Because the smoke appears to be going out.
"But, in fact, this is not the case. The evidence for second-hand smoke entering the back of a car where children sit is high.
"Don't forget, these children are strapped in for their own safety and cannot move away from the smoke."
Copyright Press Association 2012