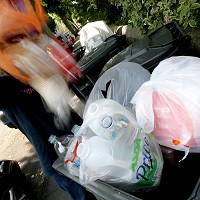 British tourists who drop litter abroad may end up getting a phone call from a Conservative peer.
Lord Selsdon told the House of Lord that he utilises his contacts in the DVLA to trace the owners of cars drop rubbish out of windows.
He said: "I find when you look at the international scene that, believe it or not, some of the most badly behaved now are British families in large 4x4s driving to the Alps to ski.
"They are the ones I've followed occasionally and, for a bit of fun, I've just taken note of their number and occasionally manage - because I have friends with DVL(A) - to find their telephone and I give them a ring.
"I just say, 'I'm sorry I happen to be involved in the political world a bit and it was noticed that at a particular point you did this'."
The peer also revealed that he always carries nappy bags with him to put rubbish in while in the car.
His revelation means that if you are planning to drive to the mainland for a holiday this year, as well as ensuring you haveEuropean breakdown cover , you should also make sure you have a supply of nappy bags!
Copyright Press Association 2013