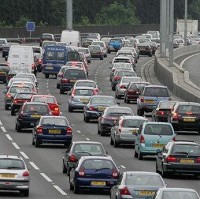 Thousands of families driving home after the Bank Holiday weekend suffered hours of delays after cattle broke loose on the M25.
Two bulls and a heifer escaped from an overturned horsebox on the motorway. While the bulls soon bolted into a nearby field, the heifer took the opportunity to wander across the six lanes of the motorway.
Emergency services were forced to shut the M25 between junctions five and six in the Surrey and Kent area at 7.45pm on Tuesday evening.
Vets managed to sedate the heifer and the lanes were able to be reopened, but the Highways Agency said the delays remained until beyond midnight.
"It was an unfortunate but unexpected end to the Bank Holiday," said a spokesman from the Highways Agency.
Copyright © Press Association 2009