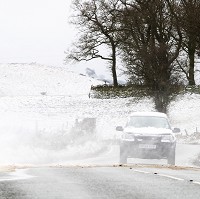 The possibility of a white Easter looms as scheduled snowfall threatens to cause disruption across Britain.
Up to 10cm of snow is forecast for Monday and Tuesday in southern counties - such as Kent, Sussex and southern Hampshire - as well as the Pennines.
And it's thought the whole country could be blanketed at some point, risking travel problems for morning and evening rush hour, as large areas are expecting around 4cm to accumulate.
Road users may want toplan ahead as temperatures are expected to remain below freezing in many areas in the next few days, with minimum temperatures as low as -7C.
James Wilby, forecaster for Meteogroup, the weather division of the Press Association, said: "One band of snow will move in from the south west spreading east along the coast and southern regions to Kent and moving as far north as the M4 corridor.
"There will be a build up of up to 4cms most areas, and up to 10cms in the worst hit - London will also see a few cms in some places.
"This snow will continue overnight and begin easing on Tuesday."
Copyright Press Association 2013