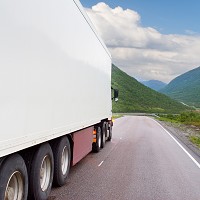 Longer lorries don't necessarily mean more dangerous lorries, according to the Freight Transport Association (FTA).
The trade body was responding to the recently published Department for Transport (DfT) review of the Longer Semi-Trailer (LST) Trial.
Its study concludes that there have been no LST-related deaths or serious injury accidents reported since the trial began three years ago.
The FTA says such vehicles not only reduce companies' carbon footprint they also save them money in lowering their amount of lorry miles. The trial has been examining if the environmental benefits of longer LSTs are outweighed by safety considerations.
The Government is satisfied, however, that there are no immediate worries that these longer trailers are more prone to causing accidents than ordinary models.
It also finds that LSTs save operators about 5% of their normal journeys (one in 22). Some high-end trailers even save around 11% of trips.
The DfT analysed the safety, efficiency and emissions impact of these trailers.
Semi-trailers are front axle-less trailers which have wheels to the rear but are supported at their front by their tractor unit.
The official trial allowed no more than 1,800 trucks to use units in two different length categories both longer than the normal 13.6 trailers. These were a maximum of 15.65m and a smaller one with a maximum 14.6m.
The trial does not end there, however. The Government wants to get more freight firms to take part by December 31 to enable the full 1,800-trailer allocation to be taken up.
LSTs have saved companies between 4.2 million to 5.2 million business kilometres over the past three years, resulting in lower carbon dioxide waste, according to figures.
LST empty running is put at just 19% in contrast to roughly 29% for articulated lorry data as a whole.
FTA engineering head Andy Mair says the Government's review proves that LSTs are running "responsibly" and "safely".
He says the association backs their use because of the efficiency and environmental advantages they hold over standard trailers. This is something that has been underlined in the DfT report, Mr Mair added.
Copyright Press Association 2015