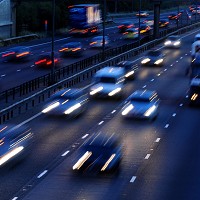 Workers are having to make longer commutes due to a lack of spending on roads, new research suggests.
Over three million people now spend more than two hours travelling to and from work every day, according to the Trades Union Congress (TUC), up 72% compared to a decade ago.
It says the UK's "creaking" infrastructure is partly to blame, along with soaring rents and high house prices.
The South East, South West, East Midlands and Wales have seen the biggest increase in long commutes, while women have suffered more than men, with a 131% rise in those travelling three hours or more since 2004.
TUC general secretary Frances O'Grady says employers need to address the problem of longer commutes.
She recommends introducing more home and flexible working to let people cut their commutes and save money, adding that fewer journeys would help to beat overcrowding on the roads and railways.
Phil Flaxton, chief executive of campaign group Work Wise, echoes these sentiments. He urges employers to help employees drive down commuting times with the aid of the internet and mobile technology.
Copyright Press Association 2015