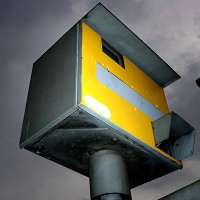 Funding cuts by Transport for London (TfL) mean that staff at one of the country's largest speed and traffic camera units could face job losses.
The budget for London Safety Camera Partnership (LSCP) has been cut from £5.9 million to £3 million by TfL.
Officials at the Westminster unit - which operates 900 speed and red light cameras in the capital - say the move will not hit their ability to process millions of tickets handed out every year.
However, the last-minute decision has sparked a row as the Metropolitan Police was left to pick up the shortfall.
Senior officers say the unit will run out of cash in September as the police cannot afford to put more money down.
The decision has raised questions about LSCP's finances because when it was set up in 2002, officers were told it would fund itself from fine income.
A Metropolitan Police spokeswoman said: "Negotiations are currently ongoing with TfL about the proposed funding of the LSCP.
"Any reduction in funding will impact on the number of staff undertaking the support function for the LSCP."
A TfL spokesman said: "TfL's 2009 funding provision from the Department for Transport did not include a specific allocation for safety cameras."
Copyright © Press Association 2009