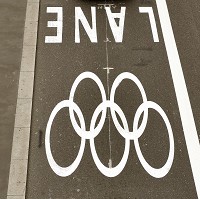 Olympic traffic-only routes come into operation on Wednesday with "ordinary" drivers facing steep fines if they venture into them.
Thirty miles of games lanes, which will run alongside existing roads in the capital, came into force at 6am.
The lanes will be used by authorised "Olympic Family" vehicles and form part of the 109-mile Olympic Route Network (ORN) around London.
Unauthorised vehicles which stray into the lanes face a £130 fine and could be forced to pay up to £200 if their vehicle is impounded.
The move could prove costly for motorists who already pay out monthly for car insurance andbreakdown cover .
The lanes will be in force from 6am to 12am every day of the Games through to August 14.
Ahead of the Olympic lane opening engineers have been changing road layouts and putting up signs around London.
Changes include the suspension of some bus lanes with some stops altered, select turns have been banned, and some pedestrian crossings have been closed.
Road restrictions are also in place in other areas of the country. Weymouth and Portland in Dorset, which is hosting sailing, will see changes, as will Eton Dorney in Berkshire where rowing is taking place, and Hadleigh Farm in Essex around the mountain biking venue.
Copyright Press Association 2012