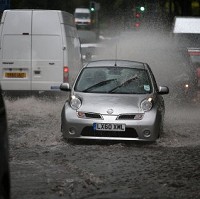 The city with the worst quality A-roads has been named and shamed in a new report.
Around one in eight (12%) of London's main highway surfaces which needed work in the last financial year went unrepaired, according to latest Department for Transport (DfT) statistics.
Some councils in the capital admitted that over a fifth of their A-roads were left unrepaired in 2013/14, despite being in need of fixing.
RAC Foundation director Professor Stephen Glaister said: "These figures confirm what road users already know: there is plenty of work to be done repairing local roads. Councils themselves estimate the cost of clearing the maintenance backlog is £12 billion.
"Our recent research showed drivers were making a claim for damage to their vehicles caused by potholes every 11 minutes.
"We understand money is tight. But when the public is asked what they regard as transport priorities, they invariably put mending damaged roads near the top."
Countrywide, the figures show 4% of local council-run main routes had maintenance still outstanding, with no change from the year before.
This figure increased to 5% and 8% on trunk road systems and minor roads respectively, while there were still repairs left to do on 3% of motorway sections.
In addition, nearly a quarter (23%) of main road routes need further investigation to ascertain if they have acceptable protection against skidding risks.
Copyright Press Association 2015