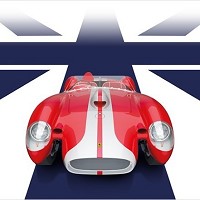 Visitors to the first-ever London Classic Car Show next year can expect to hear, as well as see, some of the most iconic cars from around the world drive along a specially-built street.
The event at the ExCeL Centre in the Docklands area of London is to be held between January 8 and 11 next year and will feature a 'Grand Avenue' for the 100 best cars on show to drive along.
It means the public will be able to see the cars while parked up but also see and hear them in action. In fact, the arena is expected to be filled with the distinctive sound of classic V8 and V12 engines.
"The Grand Avenue will add an extra dimension to the new London Classic Car Show," says Bas Bungish, Event Director, Brand Events.
The London Classic Car is expected to attract not just existing classic car enthusiasts as well as serious collectors, but also infuse newcomers with a passion for the pastime.
Among the myriad of other attractions at the show will be displays from premium marque owners clubs and heritage showcases from leading manufacturers.
Historic racing and competition cars will be featured while leading collectors will be invited to present a special car from their collection.
Copyright Press Association 2014