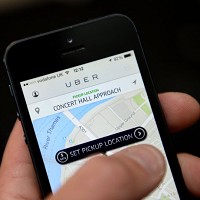 Most Londoners would choose taxi apps over a traditional Black Cab, a new survey suggests.
Rivalry between the two has been simmering, with cabbies staging road-jamming protests against the technology.
The poll finds that 55% of Londoners would rather use their Uber cab-summoning smartphone app or others like it, such as Hailo and Gett.
Black Cab operators describe the new technology as "disastrous" for their profession, causing drivers to miss out on many fares.
The PLMR and YouGov survey has some consolation for the cabbies, however. Nearly half of those polled (45%) believe Black Cabs will still be on the capital's roads in 2035, a view not shared by 30% of respondents.
One of the main arguments against the traditional taxis is the way passengers have to settle their fares.
Three-quarters of Londoners want black cabs to take contactless payments.
Elin de Zoete, deputy managing director of PLMR, says the message from the poll is obvious. She says that if traditional cabs are to survive they will have to first quickly alter, as tomorrow's generation are quickly taking change on board.
Copyright Press Association 2015