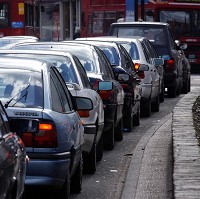 Almost a third of Londoners believe that a higher congestion charge is the best way to beat worsening traffic jams in the future.
A total of 29% of people questioned for a London First-commissioned survey said that increasing the rush-hour charge would be the most suitable means of tackling congestion on the capital's roads.
Four in 10 of the 1,055 adults questioned by YouGov for the research predict that congestion in London will increase a substantially over the next five years - while 38% tip it to rise 'a little'.
The report - Jams Today, Jams Tomorrow - also claims most people in London have now got used to the congestion charge.
Baroness Jo Valentine, chief executive of the London First business group, believes an increase in congestion would be "bad news for London's competitiveness and for Londoners' overall quality of life".
She has called for a revamped congestion charge scheme where costs vary based on times of the day when traffic jams are at their worst.
Copyright Press Association 2014