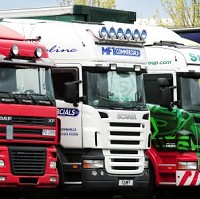 Lorries deemed to be unsafe face a "life-saving" London-wide ban as from Tuesday.
The sanction applies to lorry drivers driving in the capital whose vehicles do not have the requisite safety features to protect pedestrians or cyclists.
The ban, part of the UK's inaugural safe lorry initiative, comes in a year in which all but one of London's eight cyclist fatalities have involved trucks.
It means that every London-using HGV must have side guards installed to help stop bikers from being dragged underneath their wheels should an accident happen.
In addition, they should have a specific mirror type which allows the driver to have an improved view of pedestrians and bikes.
The fresh legislation applies to all London roads 24/7, with the exception of motorways.
Offenders face fines of up to £1,000 and risk having their operating licences taken away if they repeatedly flout the ban.
Haulage operators claim, however, that investments in the ban should instead be diverted towards enforcing earlier guidelines.
Boris Johnson the Mayor of London, who also wants HGVs to have larger side windows installed to minimise blind spots for drivers, calls the initiative a "life-saver".
Mr Johnson claims that most lorry operators have already installed the safety equipment ahead of the ban becoming law.
He says "vigorous enforcement" steps are being taken against what he called "the laggards". There is no doubt that the ban will save lives, he added.
The Freight Transport Association's (FTA) policy head for the capital, Natalie Chapman, says there are more suitable measures to make cyclists safer than the new ban. These include better enforcement of existing HGV safety regulations, she said.
Copyright Press Association 2015