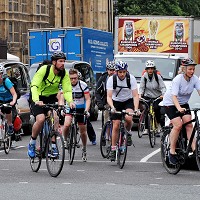 Cycling in London could be made safer - thanks to a revolutionary new traffic light system.
The new technology is being trialled in Cable Street, which is among the capital's so-called "cycling superhighways".
The technology, which identifies the amount of bikers along one given route, adjusts to allow cyclists extra time to go through green lights at busy junctions.
The new thermal and radar-based tech monitors' riders' heat when they travel into a detection zone.
Three further tests are planned across the superhighway to trial both methods with a view to rolling them out across London's growing cycle infrastructure.
Transport for London's (TfL) officials hope second-by-second demand will be reflected through the new light signals. This should, they say, better traffic bicycle flow at junctions.
The announcement comes in a year which has seen six cyclists killed already on London's roads - all in incidents involving trucks.
But new TfL statistics show last year broke new safety records for cyclists. They suggest there is just a one-in-513,000 chance of a cycle trip resulting in death or severe injury.
The new trials are part of ongoing Government plans to make the roads a safer place for riders.
In December 2013 lower-level traffic light signals were sanctioned on some city highways in accordance with the majority of cyclists' wishes.
At the end of last year one Conservative MP called for traffic lights to be switched off altogether . East Yorkshire's Greg Knight said they should not be used outside rush-hour times in an attempt to reduce traffic jams. Sir Greg said this would prevent unnecessary delays. The RAC said at the time that jams costs the country's economy billions every year.
Boris Johnson, the Mayor of London, said that the capital is once more acting as pioneers through a new lights network which could possibly bring substantial benefits to bikers.
He said the trials are important when the amounts of cyclists taking to London's roads is reaching record highs. London is doing "everything" it can to ensure that its roads become "more inviting" areas on which to cycle, Mr Johnson added.
Copyright Press Association 2015